7 Best Adventure Books of All Time (Thriller Novel List)
Who doesn't like Adventure?
Regardless of how often we do it, we all love Thriller Adventurous novel books.

Here is the list of the 7 most adventurous novels of all time.
Published in 1719 by Daniel Defoe

Come on, we all have read at least some part of this novel in our school textbooks, and I bet, many of us have assumed Crusoe was a real person, but in actuality, he was not.
Published about 3 centuries ago, the book is undoubtedly the most loved adventurous novel of all time.
Long Story Short-
Robinson sets the sail from Yorkshire, and after a few days, his ship comes across a disaster. He gets stuck on an uninhabited island, where he stays for a year. To know, how he saves himself from this disaster, read the novel.
2. The Treasurer Island
Published in 1883 by Robert Louis Stevenson
This may surprise you that this epic novel just took 7 days for Robert to finish.
The plot starts with a voyage that leads its passengers to an uninhabited island, where they find tonnes of treasure. Do they get back to their home? Read the book to know.
3. Don Quixote by Miguel de Cervantes
Published in two parts, first in 1605, second in 1615, this Spanish novel is regarded as the founding work of Western Literature.
The plot in brief-
The plot revolves around the adventures of a member of the very lowest nobility or hidalgo ("Son of Someone") from La Mancha named Alonso Quixano, who reads so many chivalric romances that he either loses or pretends to have lost his mind in order to become a knight-errant (caballero andante) to revive chivalry and serve his nation, under the name Don Quixote de la Mancha.
4. The Three Musketeers by Alexandre Dumas
Published in 1844, this book is a French adventure novel.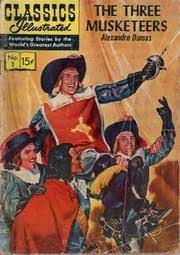 Short Plot-
Set somewhere in the 1600s, the novel is based on the adventures of a young man named D'Artagnan who leaves his home to Paris, hoping to join the Musketeers of the Guard. Although, he is not able to join this elite group immediately, however, he becomes friends with 3 Musketeers- and then he becomes involved in the affairs of the state and the court.
5. King Solomon's Mines by H. Rider Haggard and A. C. Michael
Published in 1885, the book is the first novel set in Africa.

'King Solomon's Mines' is about the searching for an unexplored region of Africa by a team of adventurers led by Allan Quatermain for the missing brother of one party. All the incidents that occur to them, are beautifully described in the novel. Read through to find out.
6. Journey to the Center of the Earth by Jules Verne
First published in 1864, and then reissued in 1867 in an expanded edition, is a classic science fiction novel by French author Jules Verne.
In this novel, a geology professor, Otto Lidenbrock, and his nephew Axel discover and decode an ancient document that purports to show that an inactive volcano holds a secret entrance to the center of the earth.
A few movies are based on the book. The most successful one is an American movie with the same name that came out in 2008.
7. The Lost World by Sir Arthur Conan Doyle
Published in 1912 by British author Sir Arthur Conan Doyle, 'The Lost World' is a popular science fiction novel.
The story is about an expedition to a plateau in the Amazon basin of South America, where prehistoric creatures still survive. The utter plot is extremely thrilling and interesting.
More Books on Adventure-
The Jungle Book by Rudyard Kipling